2020 ICF Virtual Convention: Saturday, September 5, 2020
Thank you to all who participated in the 2020 Virtual Convention.
Videos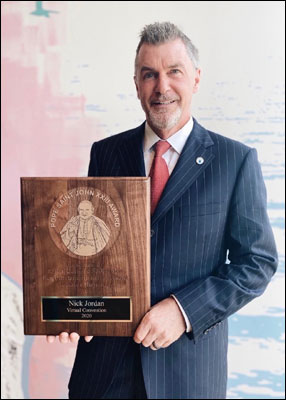 Nick Jordan receives the 2020
Pope St. John XXIII Award
Virtual Convention Agenda
Saturday, September 5, 2020
View PDF Version of the Agenda
11:00 am – Memorial Mass: Reverend Christopher Bennett, presiding. See the Mass | See the Memorial List
2:00 pm – Interactive Session: Open Forum with Central Council Officers and Committee Chairpersons – Email your questions in advance to rjarrett@icf.org to allow like topics to be combined. The Treasurer's report and Mentor Program update will be presented at this time.
6:30 pm – Happy Hour: Join your ICF peers at a 'Mask'uerade Ball. Briefly wear your favorite face mask for a chance to win a prize. More prizes will also be distributed as we pull the seven winners of our convention raffle. Participate with your household or consider having a social distancing party with your fellow members during our happy hour.
Workshops: Pre-recorded workshops are available on this page and on our Facebook page for members to view. See Workshops
Award Presentations: Our award recipients will be honored remotely. Their presentations are available on this page See Award Presentations
Blood Drive: Make an appointment to donate blood between August 17 – September 4th: American Red Cross: 1-800-RED-CROSS (733-2767) Vitalant: 877-25-VITAL (258-4825). All blood donors will be entered into a raffle. See Video | See Additional Information
Yearbooks: Each branch will receive a yearbook by mail. Additional copies will be available for $25, which includes shipping.
Charitable Donations: Donations to Cooley's Anemia, Scholarships, Gifts of Love and the Providenza Seminary Fund may be mailed to the ICF office. Donation cards are not required. You may indicate the occasion and the honorees name on a separate sheet of paper. Donations will be recognized in the Bollettino.
All are welcome. Please join us!
2020 Virtual Convention Reports
Scholarship Committee Reports
Treasurer's Convention Report