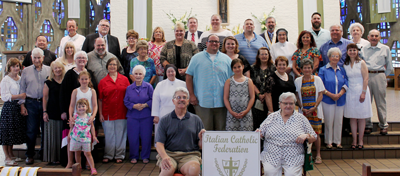 Once you have become a member and you have become familiar with the many activities and programs sponsored by the Italian Catholic Federation, you might be interested in starting a new branch at your local parish. Please call us at (888) 423-1924, and we would be happy to guide you through the details.
The process to start a new branch consists of the following steps:
An ICF representative will Meet with your Pastor to highlight the benefits of the organization and explain the process of opening a branch
If your Pastor agrees, ICF representatives will hold a Sign-up Weekend to speak at Masses and host a table outside for parishioners to sign up on an interest list.
An Information Meeting will be held to provide interested parishioners with more detailed information and answer questions about the ICF. This is where the decision is made if a new branch will be formed.
If the decision is made to move forward, an Organization Meeting is held to establish the name of the new branch, elect branch officers, and select the regular meeting day, time and location.
Prospective members gather in a Welcome Meeting to share in a meal while building community with each other. ICF representatives will review the process of running a business meeting and plan for the upcoming Branch Inauguration.
The new branch holds an official Inauguration, opened with a Mass followed by a ceremony to initiate the new branch and members and to install the officers. A celebratory banquet is held.
The new deputy and ICF representatives continue to provide Ongoing Support by mentoring and assisting the new branch.