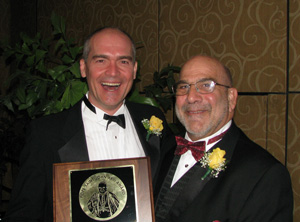 Five prestigious awards are bestowed annually by the ICF to members, lay persons, as well as Catholic priests, brothers, deacons or nuns, to honor their good works and leadership. The awards are presented during the ICF national convention.
Award Descriptions and Nomination Form
Award Descriptions and Nomination Form
Pope Saint John XXIII Award
The highest award given by the ICF to a lay person of any denomination who exemplifies humanitarian service to society. Past winners have been the late comedian, Danny Thomas, (St. Jude's Hospital), Congressman Frank Annunzio, athlete Dick Butkus, Mimi Silbert, (Delancy Street Project), Reg and Maggie Green, (Nicholaus Green Foundation), actor Joseph Campanella, and others.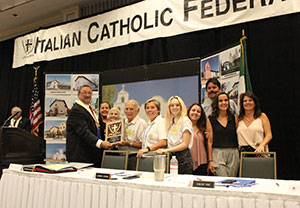 Family of the Year Award
An award given to an ICF family who demonstrates Christian service in their local community and parish.
Grand President's Award
An award bestowed to a member of the ICF for their commitment to furthering the ideals and aims of the organization.
Saint Teresa of Calcutta Award
An award to recognize and honor a priest, nun, deacon or brother for exemplary humanitarian work.
Young Adult Leadership Award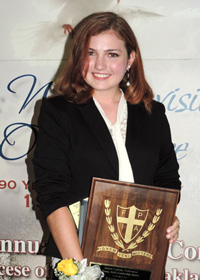 This award has been established to recognize an ICF member 39 years old or younger, who has demonstrated outstanding leadership abilities. While other ICF awards honor individuals who have made substantial contributions over time in a range of good works, the purpose of this award is to acknowledge and encourage younger Federation members who have shown that they possess the enthusiasm, talent, energy and vision to become the leaders who will guide the Federation in the decades ahead.