To purchase any of the items featured on this page, please contact the ICF Central Office.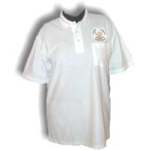 ICF Polo Shirt
Handsome white polyester-cotton blend with gold, black and white stitched ICF logo. Women's sizes only.
Price: $9.00

ICF Place Mats
Bright yellow paper with ICF logo. Ideal for branch and district dinners. Packages of 500.
Price: $40.00
ICF 75 Year Anniversary Book
71 pp.
Price: $4.00